CONTRIBUTION OF SPECIAL STAINS IN DIFFERENTIAL DIAGNOSIS OF CHRONIC GRANULOMATOUS INFLAMMATION
Abstract
Objective: To observe the results of special stains in determining the etiology of different granulomatous lesions in skin biopsies.
Material and Methods: This descriptive cross-sectional study was carried out at Army Medical College, Rawalpindi in the Department of Histopathology for one year from Jan to Dec 2018.
A total of one hundred skin biopsies displaying granulomatous inflammation were included in this study. The biopsies were subjected to special stains after staining with basic hematoxylin and eosin stain. The special stains included Giemsa, Periodic acid Schiff (PAS), and Ziehl Neelsen (ZN stain). After staining, slides were seen under the microscope to observe if they were positive or negative for these special stains and if they gave a clearer picture to aid in the final diagnosis. The data was entered and analyzed in SPSS version 20.
Results: Most of the patients presented with an erythematous plaque and others were with either chronic non-healing ulcer or erythematous rash or with a papule and only 6 presented with a nodular lesion. The age distribution was also observed and most of the patients were in the age group of 21-30 years.
Out of 100 cases, 69 % were diagnosed as cutaneous leishmaniasis. The most useful stain in this study was observed to be Giemsa, which was found to be positive in 54 cases for the diagnosis of LT bodies. Moreover, in 6 cases PAS was positive and for ZN staining only 1 case was positive. 5 cases showed negative results in all stains collectively.
Conclusion: In cases where conventional hematoxylin and eosin did not suffice in finding out the diagnosis, special stains were extremely useful and contributed towards a definitive diagnosis.
Key Words: Chronic Granulomatous Inflammation, Skin Biopsy, Special stains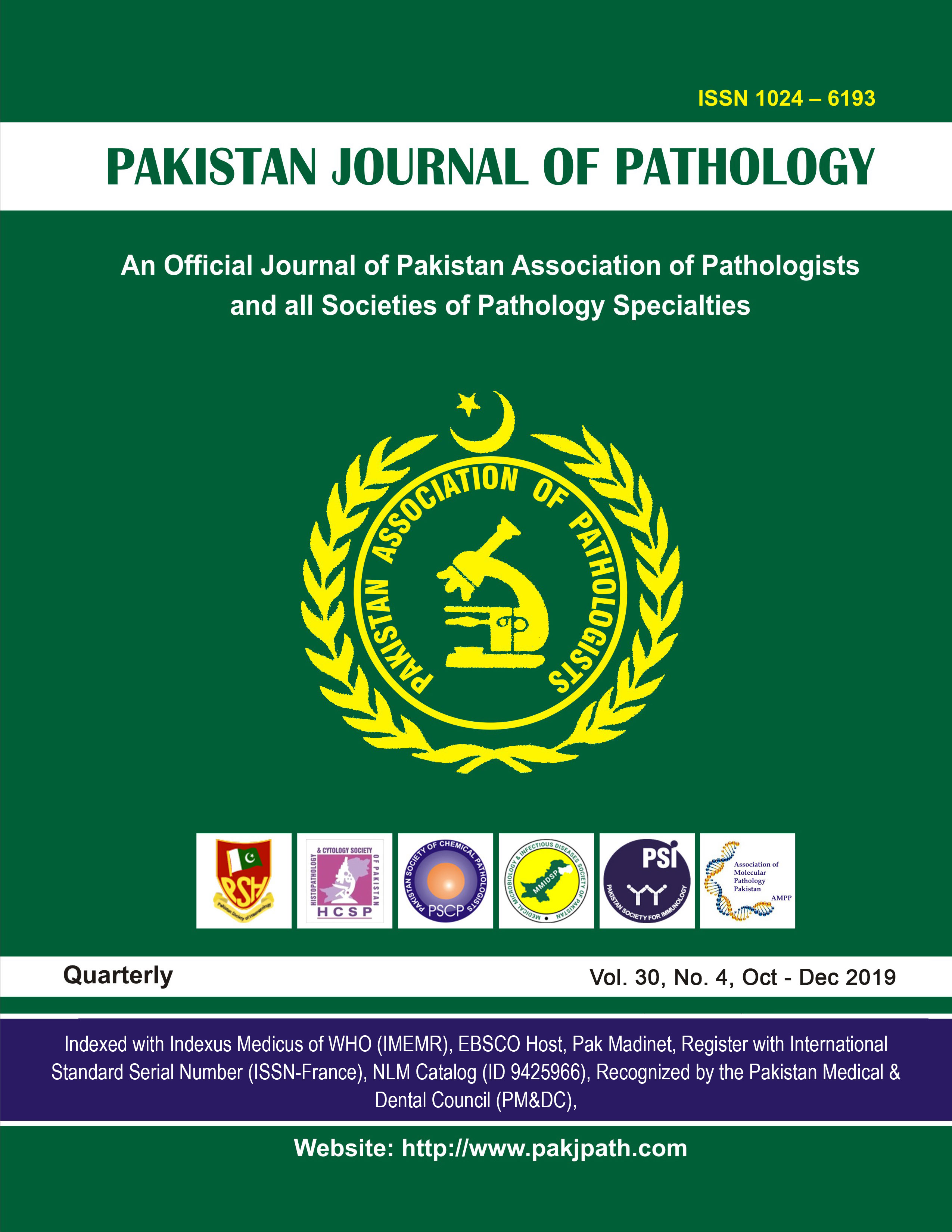 Downloads