DETERMINATION OF SPECTRUM OF HAEMATOLOGICAL PARAMETERS IN H1N1 POSITIVE INFLUENZA CASES ADMITTED IN A TERTIARY CARE HOSPITAL IN MULTAN
Abstract
Objective: To determine derangements of Haematological parameters in H1N1 positive influenza cases.
Material and Methods: It was a cross sectional study conducted in Department of Haematology, Combined Military Hospital Multan, from Nov 2018 to Jan 2019. All suspected cases with clinical features of influenza flu, who were admitted in Combined Military Hospital Multan from Nov 2018 to Jan 2019 were investigated for haematological parameters in Influenza A/H1N1. Multiplex PCR for influenza virus was conducted. Haemoglobin (Hb), Platelets count and Total leucocyte count (TLC)were performed in all suspected cases.  A total of 221 cases were analyzed.
Results: Out of 221 cases that have been reviewed, 104(47.1%) were positive for influenza A/H1N1 and 117 (52.9%) had negative results for influenza virus. Out of 104, 73(70.2%) showed abnormal platelets count and 31(29.8%) had normal platelets count. However, 91(87.5%) showed no effect on TLC count but 13(12.5%) had raised TLC count and 90(86.5%) had normal haemoglobin level but 14(13.5%) had low Hb.
Conclusion: Platelets count decreased significantly during H1N1 infection, whereas TLC count increased but to lesser extent. However, haemoglobin did not show any significant change.
Key Words: H1N1 influenza, PCR, Hb, Platelets count, TLC count.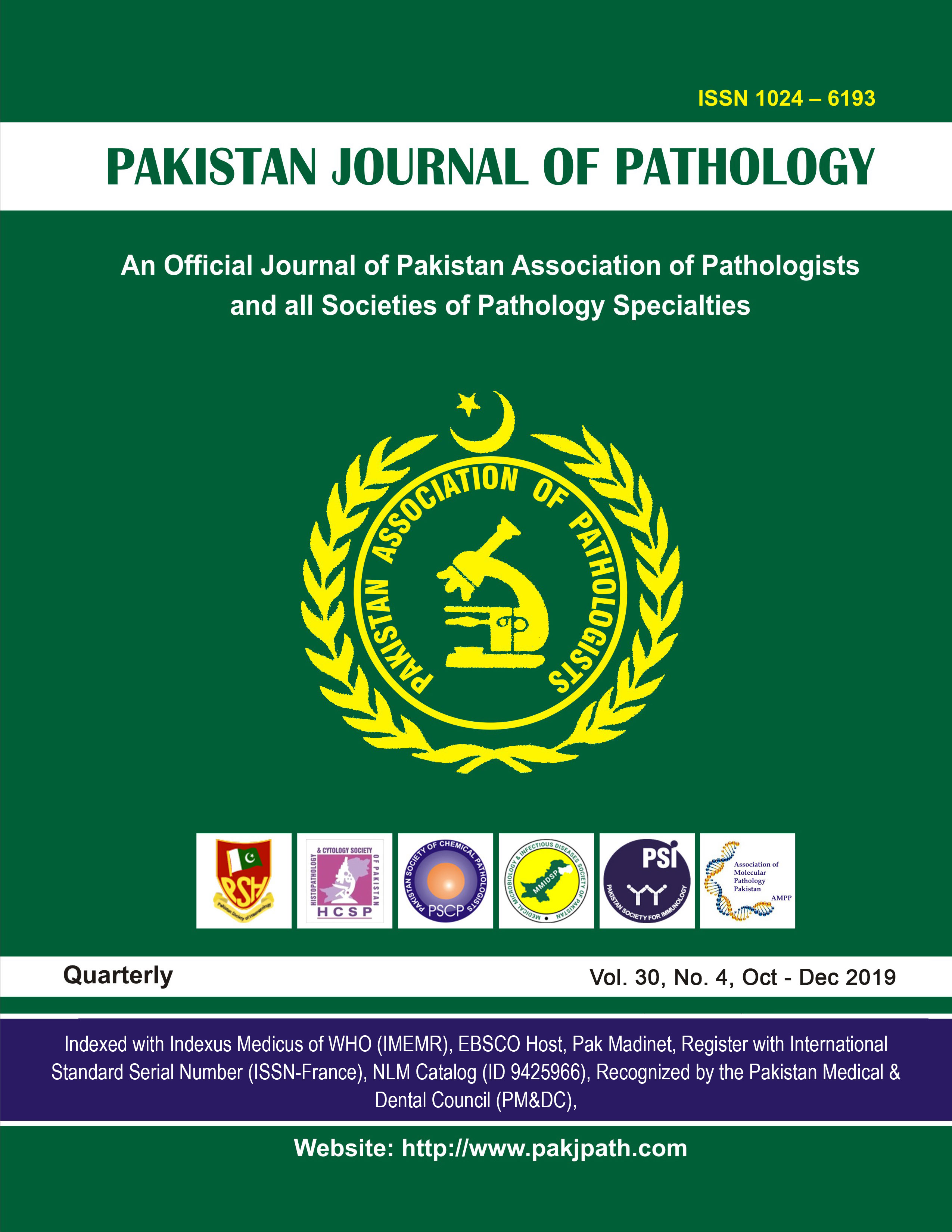 Downloads